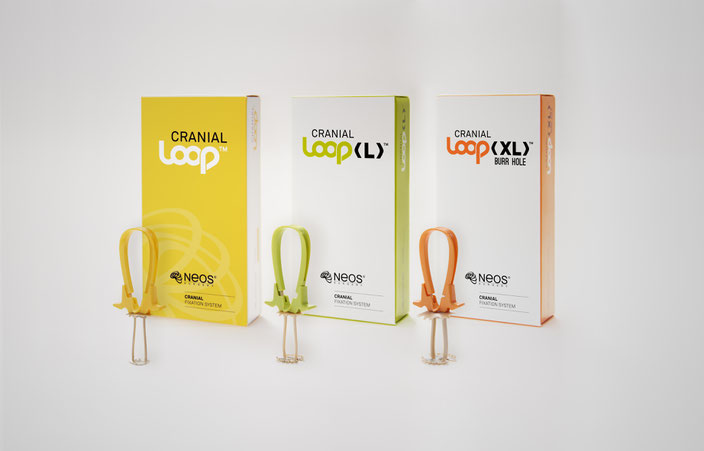 The Cranial LOOP family of cranial fixation devices are a smart system for securely fixing bone flaps resulting from craniotomies.
A fast and easy 'Pull and tighten' action allows the surgeon to control and feel the fixation. A standard bone flap with three Cranial LOOP devices can be fixed in less than a minute.
The different members of the Cranial LOOP family produce equivalent fixation strengths to those of other standard metallic NON-instrument-free fixation devices.   
●     HIGH STRENGTH & SAFETY: Double locking mechanism
●     INSTRUMENT-FREE: Fast & Easy implantation
●     CT/MRI ARTIFACT-FREE: 100% PEEK-OPTIMA®
●     MINIMAL PROFILE: Guaranteed by 3D adaptation
●     TRACEABILITY ON EVERY IMPLANT
Artifacts due to titanium device
Cranial LOOP: artifact-free Image
General information
●    Supplied ready to use: sterile, no instrument tray needed.
●    Artifact-free in X-Ray, CT scan and MRI.
●    Reduced risk of soft tissue damage due to the smart design and less aggressive material: PEEK-OPTIMA®.
●    Can be used for bone thicknesses between 1.5 and 24 mm.
●    Optimal for radiotherapy (less than 1% attenuation).
●    Easy to remove using standard Neurosurgery forceps or rongeurs.
●    PEEK-OPTIMA® polymer is certified for implantation under ISO 10993 standards and US FDA Drug & DMF.
●    CE-mark and FDA clearance.
---